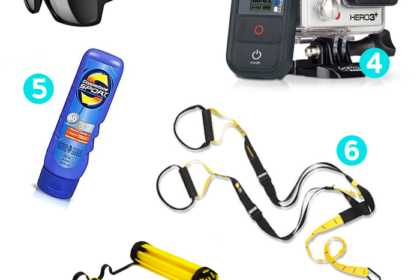 One of the best things about the summer season is the classic, spur-of-the-moment beach getaway. You're going on vacation, but your training doesn't have to! I've gathered my own list of things to keep you active and looking shredded at the beach.
1. Bright Swimming Shorts
Whatever type of swimwear you pack (board shorts, swim trunks or speedos), keep it bright and colorful to match the season – patterns and stripes included! Show of them beastly quads (we squat heavy for a reason)!
2. Athletic Flip-Flops
Flip-flops are awesome – they're easy to put on, bendable, and comfortable – but if you've never worn athletic flip-flops, you are seriously missing out! Imagine an open-toe training shoe that you can wear in the sand.
3. Polarized Sunglasses
As much as we love the blazing sun, its glare can make beach activities difficult. A pair of polarized sunglasses can help you see better despite the bright sun and they protect your eyes from sand during your beach sprints.
4. GoPro Hero 3+ Black Edition
Capture all of the action with the best beach-ready tech! The GoPro camera is waterproof, takes wide angle shots, and films crystal clear videos (you can literally take it underwater and see every little detail). Whether you use it to film your beach workouts or your diving adventure, this is the best find of the summer!
5. Sweat-proof Sunscreen
As much as we want to tan and show off our strong build, don't forget to lather on the sunscreen! Go for a sweat-proof and water-proof sunscreen so that your skin stays protected.
6. TRX Suspension Trainer
The TRX is a versatile tool that you can bring anywhere. Hang it on a palm tree and you're good to go. You have yourself a full-body workout – rows, pushups, squats, everything!
7. Agility Ladder
Beach sand is the best training ground to do some speed and agility drills. The uneven surface and random displacement when you shift your weight forces you to engage more muscle. Bring an agility ladder, lay it on the sand and get stepping!
8. Straw Hat
Sometimes it's good to ditch the typical baseball cap and go for a tropical look. A straw hat compliments your beach vacation perfectly and, not to mention, it can protect your head from the full intensity of the sun.
9. G-Shock Waterproof Watch
Time flies when we're relaxing on the beach yet it's always nice to have a watch to keep you on track. Use a G-Shock waterproof watch for accessorizing and timing sprints without worrying about water damage.
10. Any Good Book
Re-energize your thoughts with a good beach read. Clear your mind, recover, and relax!
What's your #1 beach essential? Tell me in the comments below!