"Kyle Paraggua is one of the best trainers I have ever worked with through out my career. His attention to detail and planning skills have matched our training program on the ice to help us reach our maximum potential. He has a way of listening to the athletes needs like, motivating them when they don't feel like pushing, knowing when to back off when the athlete feels a little run down, and truly being a friend. The life of an athlete can be lonely at times so knowing you have a trainer that is on your side and on your team can make a hell of a difference."
PIPER GILLES
Team Canada Ice Dancer with Paul Poirier, World Class Figure Skater
"I have never been so fit and injury-free as I am now, working with Kyle over the last two seasons. His programs are crafted with care to address our individual strengths and weaknesses, correct any imbalances, and most importantly, to work in conjunction with our on-ice training to make us the best skaters we can be. This is possible because Kyle cares for us, treats us with respect, and encourages communication so that he knows how he can best help us grow. For his thoughtfulness, commitment, and passion, I am beyond grateful!"

PAUL POIRIER
Team Canada Ice Dancer with Piper Gilles, World Class Figure Skater
"I have worked with Kyle for the past 3 years over the summer and it was time well spent. Kyle has helped me to further improve my strength and speed which I have used to excel at my sport. He puts together a program that will have you feeling in the best shape come time for the season. His attention to detail has helped me to stay injury-free by strengthening injury prone areas and by specializing programs to fit my individual needs."
MICHAEL PEZZETTA
Sudbury Wolves (OHL), First Round OHL Draft Pick 2014, Team Canada U-17 2014-2015, 2016 Round 6 #160 Montreal Canadiens (NHL)
Training with Kyle was purposeful and productive. The workout sequences we were high tempo and exciting. Through my constant progression as an athlete Kyle made sure that injury prevention was incorporated into routines. Through my athletic experience I have found athletic training to be most effective when the focus is on the complete health of the athlete, not just muscle gain. The results from my training sessions were obvious on the ice. My stride and shot developed into more powerful and efficient movements. Kyle was extremely supportive, knowledgeable, and eager to train me, which helped me thrive in the gym and outside the gym, especially on the ice.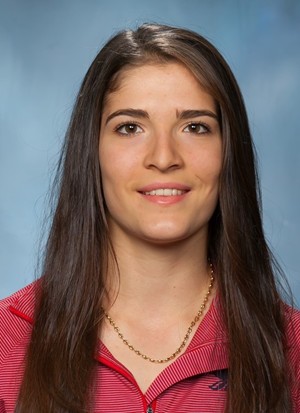 NATALIE MARCUZZI
Robert Morris University (NCAA)
"Kyle has guided me through 3 years of purposeful, results-oriented training. His knowledge and enthusiasm has led to constant improvements in my strength and speed along with changes to my nutritional habits. His drive has raised my personal confidence, and all this while enjoying every minute of our work together. I recommend Kyle to any athlete looking for a positive change in his/her performance."
DANIEL NIKANDROV
Sarnia Sting (OHL) 2011-2015 and Peterborough Petes (OHL) 2015-2016
"I have worked with Kyle for 3 years and it has been nothing but results! He has helped me gain 22lbs of muscle while maintaining at around 7% of body fat, while also getting me quicker and stronger on and off the ice. He is the best when it comes to knowing what is best for you so that you can get the most efficiency out of your off-season training."
NICK SANTORO
Amarillo Bulls Texas (NAHL), 2016-2017 Robert Morris Univ. (NCAA)
"Working with Kyle for the past 3 years has been great. The passion he shows towards training and personalization of his programs have allowed me to become a stronger and more efficient athlete. His care for maintenance within the programs has helped me stay injury free season after season!"

STEFANO PEZZETTA
2012-2014 Owen Sound Attack (OHL), 2014-2016 Guelph Hurricanes (GOJHL)
"Kyle is everything you want, need and expect in a strength & conditioning coach. He has constantly gone over and above my personal expectations every time I entered his gym. He displays an enormous amount of intelligence and discipline towards his clients. As my hockey playing career has progressed, it has become more essential to receive top-notch training during every off-season. Kyle allows my workouts to be comfortable and enjoyable yet it's all business when we're working together."

MATT LIPPA
Manhattanville College, Division III (NCAA)
"After a summer regimen with Kyle, I have never felt better and explosive on the ice going into my first of college hockey. He has not only provided me with improvements in mobility, but being strong in a functional position and being a goalie - that's huge. I would recommend anyone to Kyle that's willing to take their game to the next level."

CHRISTIAN SHORT
Rochester Tigers, Division I (NCAA)
"I've been training with Kyle for the past two years. He has helped me improve my foot speed, explosiveness, and overall strength. Kyle has a wide understanding of my strengths and weaknesses, and instructed me on how to improve and reach my goals. Being a big player, this was huge for me. It allowed me to make the jump to junior hockey (OJHL). Kyle is perfect for anyone who is willing to put in the work."

GRAYDEN GOTTSCHALK
North York Rangers (OJHL), 2016 Oshawa Generals (OHL)
"Meeting Kyle in the summer of 2015 change the way I viewed how to train and how to take care of my body. He's truly an awesome strength coach and he shows a lot of care towards any athlete that he approaches. He's there to help inspire, motivate, push you day in and out. I'm glad I got to know Kyle as a coach and more importantly, as a friend. I would not hesitate to recommend him anyone out there looking to get better!"
KIRILL MAKSIMOV
Saginaw Spirit (OHL)
"Working together with Kyle Paraggua since college, Kyle is the first person I go to for strength & conditioning. To put it simply, Kyle is the REAL DEAL. You won't find a more committed, more caring coach! His passion to learn and improve his craft makes him such a great person to work with. I would definitely recommend him to anyone looking to perform better!"
KRUNAL PATEL
Physiotherapist at Active Physio Works AB
"Kyle has the qualities that you look for in a coach. He's young, passionate, motivated, and always looking to improve. I've been fortunate to work alongside Kyle, and his enthusiasm and work ethic makes him stand out from other fitness professionals. The results you'll get will speak for themselves!"
IAN WARNER SR.
Strength & Conditioning Coach at DNA Training
"I first met Kyle as an intern strength coach at one of the training facilities I directed. It was easy to tell Kyle was a motivated individual and was in the industry for all the right reasons. He was keen to learn and apply his teachings. Kyle learns very quickly and has a fantastic attitude, both as a coach and as a student. Kyle has grown into a very knowledgeable strength and conditioning professional and I have no doubt he has some big years ahead of him doing big things."
ADAM LLOYD
NHL Player Development Consultant & Human Performance Specialist
"Kyle Paraggua is one of the best Strength and Conditioning coaches in the business. He possesses a wealth of knowledge in his field and is constantly pioneering new and exciting ways for his clients to achieve their health and fitness goals. Whether he is working with elite level athletes or beginners, his professional and personable approach is a welcomed breath of fresh air in the industry. I am extremely glad I have the opportunity to learn and work with Kyle. Kyle continues to build stronger bodies the right way. Keep pushing and motivating!"
DR. CHAD CARTER
Chiropractic Sports Physician
"I've been coming to Strong & Fit Camp for 1 year now and the results have been incredible! Kyle's training has helped me not only look great but even my performance in soccer has dramatically improved too! We always have so much fun each class! I highly recommend it!"
DIANNE OPENA
Strong & Fit Member
"It's so much FUN training with Kyle and other members! Throughout the year, I've seen great improvements in my strength and stamina. Plus, feeling and looking good just becomes a bonus! I highly recommend this to anyone looking to get in the best shape. You will not regret it!"
NIKKA AQUINO
Strong + Fit Member
"Strong and Fit Bootcamp has been amazing! My mid-section is slimmer, my arms and legs are more toned. I also feel stronger, and move better! The results speaks for themselves. Kyle's my go-to-trainer for achieving my fitness goals!"
STEPHANIE
Strong + Fit Member
"Working with Kyle has been amazing. Kyle knows what I want to work on and designs my workout personally, in accordance to my goals. Each session gradually builds upon the one before and I leave the gym feeling strong and more confident in the progress I've made each time. Kyle's bootcamp gives me that extra push that I needed in my fitness lifestyle. The other ladies gave me more motivation to help me reach my goal. I feel good physically and mentally. I'm more toned, I can lift heavy weights with great technique. Plus all my clothes are loose and need to go shopping for new ones =)! If you're looking for results ladies, JOIN STRONG AND FIT BOOTCAMP!
Christina
Strong + Fit Bootcamp